About Us
Delhi Rasoi is located on Cumberland Street in Dun Laoghaire. This wonderful Indian takeaway serves a wide range of classic and modern Indian dishes. We recommend you sample the delicious Chicken Dhansak, which includesCooked with yellow lentils, pineapples and green chillies. Sweet and Spicy. Order directly online via JUST EAT, and check out the review to see who's the tastiest!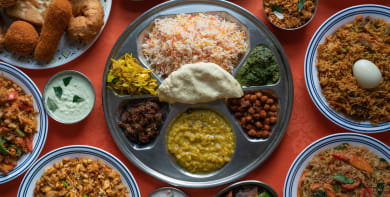 Reviews
David
"The food is always great and tastes freshly prepared."
14/05/2022
Robert
"As on previous occasions food from this restaurant was excellent. It was delivered in good containers/wrapping and was hot. I recommend their curry sauce for later use."
12/03/2022
Arthur
"Great indian food! Recommended."
14/02/2022
Menu
Contact Us
Find Us
7 Cumberland Street, Co Dublin, DUNLAOGHAIRE
Opening Hours
Please note, delivery times may vary.
We deliver to
Ballsbridge, Ballybrack, Ballybrack (Dublin), Belfield, Blackrock, Blackrockbooterstown, Blackrockcarysfort, Blackrockcentral, Blackrockglenomena, Blackrockmonkstown, Blackrocknewpark, Blackrockseapoint, Blackrockstradbrook, Blackrocktemplehill, Blackrockwilliamstown, Booterstown, Brennanstown Road, Cabinteely, Cabinteelygranitefield, Cabinteelykilbogget, Cabinteelyloughlinstown, Cabinteelypottery, Carrickmines, Cherrywood, Clonskeagh, Clonskeaghbelfield, Cornelscourt, Dalkey, Dalkey Hill, Dalkey Upper, Dalkeyavondale, Dalkeybullock, Dalkeycoliemore, Deansgrange, Donnybrook (Dublin), Dublin 2, Dun Laoghaire, Dun Laoghaire Sallynoggin, Dun Laoghaireeast Central, Dun Laoghaireglasthule, Dun Laoghaireglenageary, Dun Laoghairemonkstown Farm, Dun Laoghairemount Town, Dun Laoghairesalthill, Dun Laoghairesandycove, Dun Laoghairewest Central, Foxrock, Foxrockbeechpark, Foxrockcarrickmines, Foxrockdeansgrange, Foxrocktorquay, Glasthule, Glenageary, Irish Town, Johnstown (Dublin), Kill Of The Grange, Killiney, Loughlinstown, Monkstown, Mount Merrion, Pembroke, Ringsend, Sallynoggin, Sandycove, Sandymount, Stillorgan, Stillorganmerville, Stillorganmount Merrion, Stillorganpriory